We are located in the small village of Wiseman, situated in Northern Alaska, approximately 60 miles north of the Arctic Circle and 270 miles from Fairbanks. Flanked by the Brooks mountain range, and near the Gates of the Arctic National Park. You can reach Wiseman via the Dalton Highway, which connects Fairbanks to Deadhorse and the Arctic Ocean.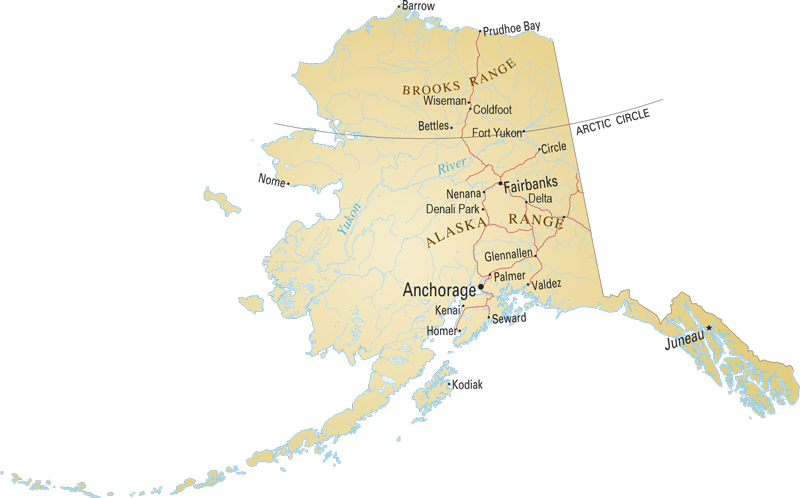 Traveling by Vehicle
The road is a well maintained, gravel road (partly paved) and usually in fair condition during the summer. Winter road conditions vary based on the road maintenance response time and the extent of winter storm conditions. Weather and road construction can effect travel times but count on a minimum of six hours to drive from Fairbanks to Wiseman. If you are planning on renting a car, please inquire with your rental car company to ensure that they permit travel on the Dalton Highway.
Wiseman
The Wiseman spur road is located 14 miles north of Coldfoot, about halfway between Fairbanks and Deadhorse. A small sign will direct you to turn left, for a three mile drive to Wiseman. Google maps call it the Hammond Road, but it is actually known as the Wiseman Spur road.
Continue along the Wiseman Spur road which will wind through the community until you cross the bridge. Just after the bridge you will see our Arctic Getaway sign, and take the first right into the driveway to the Arctic Getaway. Follow the cobblestone walkway to the porch and ring the doorbell.
As an alternative to driving to Wiseman, scheduled flights exist from various Fairbanks and Deadhorse based flight service companies to Coldfoot.
Traveling Farther North
If you are not already planning to continue north of Wiseman, we recommend driving an additional 100 miles through the Brooks range, over Atigun pass, (the highest road pass in Alaska, 4,800 ft.) and out on to the open tundra of the Arctic North Slope and coastal plains. The spectacular scenery will reward the extra effort. You may see moose, wolves, grizzly bear, dall sheep, musk oxen, birds and other wildlife along the way.
What Our Guests Say
"One of the nicest places we have stayed - cabins lovely and cozy. Beautiful scenery - a winter wonderland!. We'd love to come back again and hopefully will."
-Rosie, Nick and Chris Smith